invisalign clear aligners
Invisalign Provider in Chandler, AZ
Are you looking for a simple way to straighten your teeth? Would you prefer braces that are more subtle than traditional metal braces? Invisalign® clear aligners might be the answer you are looking for!
The Invisalign® clear braces system is designed to shift your teeth into place using a series of clear aligner trays. With consistent use of your customized Invisalign® braces, the advanced technology can align your teeth in half the time of a traditional metal braces treatment!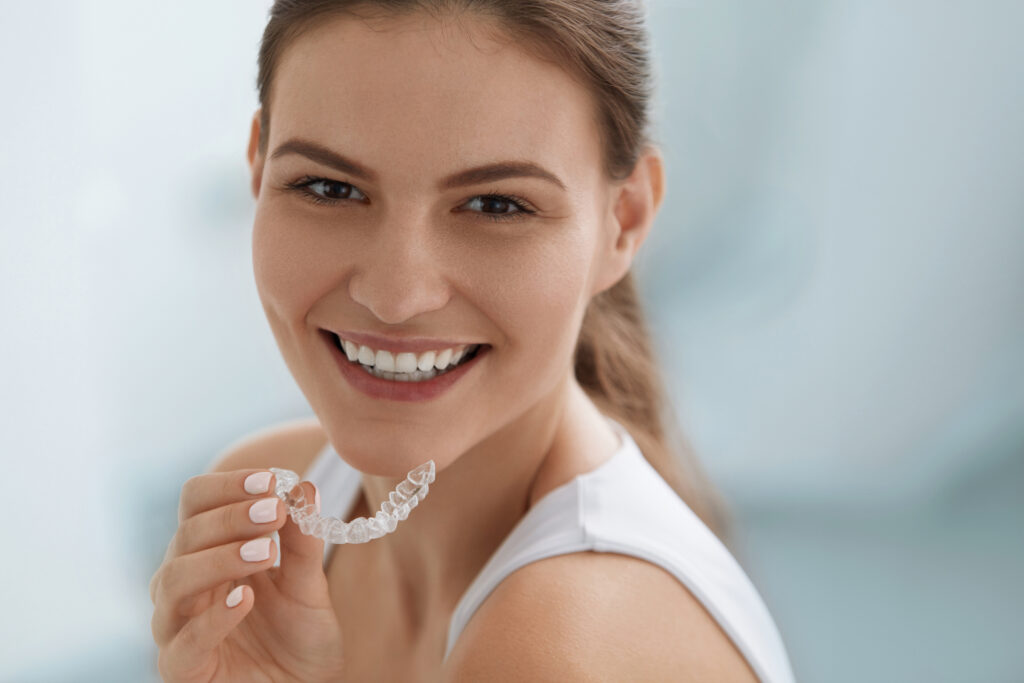 HOW INVISALIGN® CLEAR ALIGNERS WORK
During your first visit, our dentist examines your teeth to see if Invisalign is a good option for your situation. We then take digital images and scans of your teeth to send to the Invisalign lab where your specialized aligner trays are created.
BENEFITS OF INVISALIGN® CLEAR ALIGNERS
Though traditional braces are still useful, especially when severe misalignment issues need to be addressed, Invisalign® clear braces are a great alternative for many patients. Benefits of this teeth-straightening system include:
Subtle treatment.

 

Clear aligners trays go virtually undetected by people around you.

Minimal discomfort

 

with the smooth aligners rather than the soreness that comes from metal brackets and tightening braces.

Few dietary restrictions.

 

You can take out your aligners when you eat, so you can continue to eat all your favorite foods.

Easy maintenance

 

because no special flossing or brushing tools are needed. You can remove the trays while you brush, which means easy dental hygiene.

Decreased treatment time.

 

Invisalign® aligners may work up to 50% faster than traditional metal braces.
With so many benefits, can you afford not to explore this exciting option for teeth straightening?
CORRECTING CROOKED TEETH
Misaligned teeth can often lead to consistent discomfort or jaw problems. Our team may recommend the Invisalign® treatment system to correct misalignments like overbite, underbite, crossbite, or gaps between teeth.
Correcting these alignment issues can lead to a straighter smile that is easier to clean and has fewer places for decay to hide. This helps you maintain a beautifully healthy smile for years to come.
---
Clear Aligners & Braces Near Me – #1 Orthodontist in Chandler, AZ – Invisalign Provider Near Chandler, AZ